Welcome to the 3rd edition of Pottery on the Wheel Magazine Online. This issue features an interview with amazing ceramic artist Jacqui Atkin.


Jacqui is author of several great books on pottery making, including one of my favorite books 250 Tips, Techniques and Trade Secrets for Potters .

The interview includes her insightful perspective about process, growth as an artist, new directions, and her favorite quick and easy technique.


Interview with Jacqui Atkin
Steve: Jacqui, you are well known for your unique technique of combining textures and botanical imagery. What about your technique excites you the most?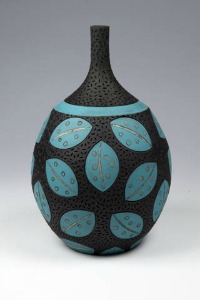 Jacqui: All my life, from being a very little girl, I have enjoyed making patterns. In primary school we were given squared paper that allowed me to make repeat patterns and I could spend hours creating new designs. So, I guess I have just continued the obsession through my life but with clay I can work three dimensionally and introduce other elements like texture to the picture. I really only see my work as a surface to decorate and love the challenge of designing new forms simply because it will provide another surface to play with.



My studio is in my garden which is situated on the edge of woodland. The view from my window is of trees and birds, flowers and various little creatures scurrying by – dreamy really, I am very blessed to be able to work in such a place.



The point I am trying to make is that these are the things that inspire me – nature in all its glory – the rough and the smooth, the rich pattern and texture of the trees against a clear blue sky, the vivid colour of Frank the pheasant as he wanders over the gravel outside my door.



There is constant movement of one surface against another and this is what excites me most and is what I try to capture in my work so that for instance, a vessel with vividly coloured falling leaves may be surrounded by scored lines which represent the swirling breeze as it blows the leaves – it gives the work movement and tells of what I have seen- tells a story almost.


---
Click here to see the full interview along with photos of Jacqui's work, an easy tip for beginners, and a new technique that is taking her work in a new direction.

Also, visit my new page called Add YOUR Two Cents and choose 1 of 4 easy ways that you can be a contributing part of the Pottery-on-the-Wheel.com community. With as little as 2 minutes or 2 dollars you can make a huge difference for aspiring potters everywhere.

Finally, visit the home page to find all the FREE pottery lessons, videos, and advice at Pottery-on-the-Wheel.com

Thanks for reading, and Happy Potting.


P.S. Know a friend who would enjoy this issue? Forward it to them.