Ceramic Pottery Supplies - Storage
Storage for clay pot projects and ceramics supplies is very important for organizing your pottery studio. It can be fairly simple to set up.
The ideal setup would be 1-4 tall, solid sets of shelves, two sturdy tables, and bins for storage underneath.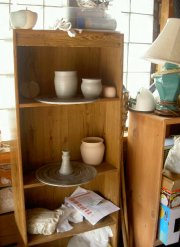 It's ideal to have your clay pot projects separated into two sets of shelves. The first would be for wet projects still being worked on. The second for finished pieces that are drying. The third for bisque fired pieces waiting to be glazes.
Simplicity
If you have limited space or you only work a few pots at a time, you can easily get away with one tower of about 6 shelves for all of your pottery.
See the photo to the right. One shelf has pots in every stage of completion. This is from my garage/studio. There's even a printed page from my website on the lower shelf.
Your supplies such as glazes, pyrometric cones and extra pottery clay could be stored underneath a table in simple plastic bins.


Return From Ceramic Pottery Supplies - Storage
To Pottery Studio Page

Return To Pottery on the Wheel Home