Best Advice for Selecting the
Perfect Electric Pottery Wheel to Buy


Choosing an electric pottery wheel to buy can be a daunting task.
On this page you can buy or read my reviews of Shimpo, Brent and Clay Boss wheels. Read reviews of potters wheels for sale here or click to learn more about finding used pottery wheels. Also, learn about specific wheels that are best for kids or beginners.
Skip straight to IN DEPTH REVIEWS
Where Do You Begin?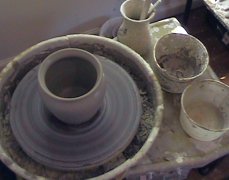 You might be wondering:
What features do I need?
How much should I pay?
What should I avoid at all costs?
Here are the answers to these questions and more.
Follow the discussion below to choose the perfect attributes for your perfect wheel.


---
Quick Reviews
(4 Highly Recommended Wheels)
These are my quick and dirty reviews of 4 of my favorite pottery wheels. Skim these reviews to find recommendations if you are in a hurry. Click the link to read more about them at Amazon. For more in depth reviews continue down the page.
Clay Boss
- A decent quality but very INEXPENSIVE wheel (centers 100 pounds of clay).
Shimpo Aspire Pottery Wheel
- A compact, PORTABLE, inexpensive wheel that is still good quality (centers 20 pounds of clay).

Brent Model CXC
- A POWERFUL, quiet, HIGH QUALITY, extremely DURABLE wheel (centers 300 pounds of clay).
Brent Model IE Wheel
- A less expensive Brent wheel if you don't need to center 300 pounds of clay but still want the best quality wheel available (centers 75 pounds of clay).
---
Deals at Amazon

Here are some great wheel deals available at Amazon. The first two are the Clay Boss and the Brent Model IE from my recommendations above.
The third one is the portable Shimpo Aspire pottery wheel (my new favorite for price, performance and portability).
The last one is for the Brent Models B and C, which are more expensive than the Brent model IE above, but are very high quality wheels.
That's the short version of the electric pottery wheel reviews and advice that the rest of this article is dedicated to.
You can click on any of the links to buy them from Amazon.
If you need more advice and electric pottery wheel reviews, keep reading.
---
In Depth Pottery Wheel Reviews
by Brand
Brent Pottery Wheels

Shimpo Pottery Wheels

Clay Boss Pottery Wheels

Kids Pottery Wheels


How to Select the Perfect Wheel-
Five Things to Consider
Price
So you've probably heard the saying, "You get what you pay for." In general, this is also true with pottery wheels. The exception is when you can shop for, or negotiate a great price on a great wheel.
Here's how to find a great deal. Search the internet. Compare prices. Check local retailers. Ask about sales and discounts. Look for discount packages that include other things you'll need like tools, glazes or a splash guard. In general, expect to pay around $350 to $1400 for a new wheel, $75 to $1000 if it is used.
If you want to get the perfect electric pottery wheel at a great price, first you need to determine what kind of wheel you need.

For example, if you're only going to be throwing small vases, you don't need a wheel with a 1 horse power motor.

You can save money by going with a less powerful wheel like the Shimpo Aspire Pottery Wheel
in the photo.
If you want to save lots of money, consider a used pottery wheel. There are lots of pottery wheels out there collecting dust, just waiting for you to give them a good home. Just be sure to check the wheel out before taking it home. Ask to throw a pot on it before buying to be sure it functions well.
Tip: Here is what to avoid at all costs! Avoid buying a used wheel with a major mechanical problem unless you know how to fix it. If you spend $100 for a wheel that doesn't work, you're out $100. Better to spend a little extra up front to get one that will work well for you.
Power
This one is pretty simple. How much horse power does your wheel have? Most wheels range between 1/4 and 1-1/2 horse power. Manufacturers will usually give you an idea of how much clay you can center on a particular wheel.
Here is a quick guideline for selecting power:
A 1/4 horse power motor is suitable for small pots and most recreational pottery.
1/2 horse power is more than enough for most potters.
A 1 or 1-1/2 horse power motor is more appropriate if you're making four foot tall vases.
Quality
How smooth is the pedal? Does the wheel head twitch at low speeds or turn slowly and evenly? Is the motor quiet or noisy?

These three factors affect your throwing experience.

If you're making delicate porcelain vases you would want a smooth wheel motion.

If you're throwing pots at night while your 1 year old sleeps in the next room you would want a nice, quiet wheel.

For both quality and power check out the Line of Brent Pottery Wheels
. I used a Brent CXC for years and except for the fact that is was heavy and hard to move, it was extremely powerful, smooth, quiet and reliable.
Features
Many potters use a splash guard to keep the water and slip from splashing everywhere. Is a splash guard included?
Is the work surface large enough to accommodate your tools? Could you easily use a table to provide space if it doesn't?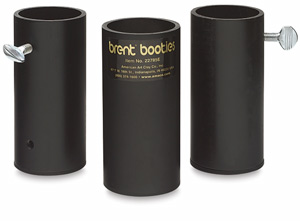 Do you want to throw standing up? Some potters find this much easier on their back. If so, could the wheel attach to a leg extension kit like these Brent Booties Leg Extensions
?
Are you left handed? Consider a wheel with a reverse switch if throwing counter-clockwise feels more comfortable.
Finally, what size is the wheel head, and can you attach removable bats to it? Larger pieces like plates and serving bowls require a larger wheel head.

Portability
Will you need to move the wheel frequently?
Some free-standing electric pottery wheels such as the Shimpo Aspire Pottery Wheel
can be very light and easily movable with only one person.
If you are working out of an apartment or have very limited space, a table top wheel like this might be the answer.
The Shimpo Aspire Pottery Wheel centers 20 pounds of clay and is also much less expensive to buy than larger wheels!
See this article for creative set up of pottery studios in small spaces.
On the other hand, if your wheel is going to stay in one place for many years a large, powerful, heavy wheel would be a good buy.
Kid's Wheels
In general children under about the age of 13 will enjoy hand building pottery projects over wheel projects.
However, this depends on the individual child.
A rare few will be surprisingly patient and able to grasp the wheel.
Others will be interested, but will struggle to put together the complex steps involved in electric pottery wheel throwing.
In most cases, especially for very young children, a toy wheel such as the Alex Deluxe Pottery Wheel can offer a good introduction. A toy wheel can be inspiring. They can have fun and try what the adults are doing.
It's a great way to introduce the spinning concept. In general, however, don't expect much actual pottery to come off a toy wheel. Also, remember to keep it fun.
Tip: If you want to really challenge your own skills, and the skills of your fellow potters, have a competition to see who can actually throw something on a toy wheel!
If You Liked This You Might Also Like:
Ceramic Kilns

Pottery Supplies and Tools

Pottery Designs
---
What's the Deal with Your Pottery Wheel?
Every wheel has a story. Share your story with us. How did you acquire it? What brand do you have? What do you love/hate about your wheel? What have you been through with your wheel?
What Other Visitors Have Said
Click below to see contributions from other visitors to this page...

Good luck on your electric pottery wheel search and Happy Potting.
Return From Electric Pottery Wheel
To Pottery on the Wheel Home