Advanced Clay Pot Patterns
Looking for some new clay pot patterns? Look no further.
Here are some advanced projects to inspire your work in new directions.
The project that I am most frequently asked about is how to make a lid.
The two keys to making a good lid are accurate measurements, and matching the lid to the rim of the pot.
Once you can make lids it's fun to make a pottery kitchen canister set in stoneware.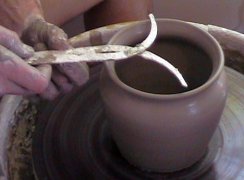 The key here, again, is accurate measurements.
As seen in the photo, calipers can help you measure accurately every time.
It's important to get the size of the lid right, but it's also important to match the sizes of the containers.


Another great project with a lid is a set of ceramic cookware.

One of my favorites is a handmade ceramic coffee travel mug. The challenge, again, with the travel mug is creating an effective lid that is compatible with the pot.
I even have a section where you can learn which coffee mug tree or coffee mug rack is best for your kitchen.
If you really want a challenging project that you can spend some time perfecting, try ceramic floor vases.

Finally, when you're ready for a very fulfilling challenge, make a teapot as one of your next clay pot projects.

Teapots are not difficult to throw. The challenge is having the patience to properly measure, dry and assemble the parts into a whole.
---
If you need more ideas check out the beginning and intermediate pages for some fun projects. You might find unexpected pottery designs to add to your list.
Enjoy these projects, and Happy Potting.
Return From Clay Pot Patterns
To Home


To receive monthly tips, updates, and artist profiles subscribe to the FREE Pottery Magazine Online.