Ceramic Coffee Travel Mug
For the coffee lover on the go, a ceramic coffee travel mug is a must have.
Find out the various types that are available, and learn how to make your own.
Ceramic travel coffee mugs take on various shapes and styles.
The main differences are in the lid and the mug shape.
Some have a wide bottom so they won't tip over. Others are tapered at the bottom to fit into a cup holder.
Many have narrow necks to prevent spilling.
There are various types of lids, from the silicon lid, to small wooden stoppers to large cork lids and even rubber lids.
---
Related Mug Pages
20 oz travel mug review

Types of Pottery Coffee Mugs

Wide Base Ceramic Travel Coffee Mug

Handmade Coffee Mugs Photo Gallery
Make a Travel Mug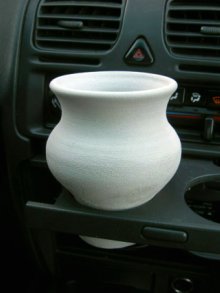 Here is a popular design you can make that is stylish as well as functional.
The best thing about this ceramic coffee travel mug is that it fits into a standard car cup holder.
Plus you can vary the shape and size of the opening to fit a variety of lid types.
The photo shows the mug in the greenware stage.
Once it has been bisque fired, you'll want to paint your clay pot using a food safe glaze.
With glazes, the sky is the limit.

Forming a Travel Mug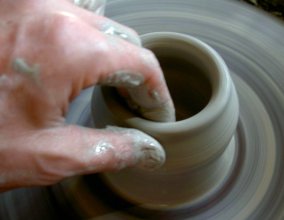 To make this mug, start with a nice smooth clay.
Throw a tall, narrow cylinder.
It should be about eight inches high and two and a half inches wide at the base.
Note: It's important that the bottom two inches of the mug are narrow and nearly straight up and down. Otherwise it won't fit into smaller cup holders.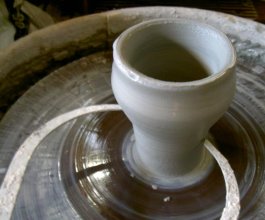 Measure the pot and the desired cup holder (most have a standard size. Calipers are the best tool for measuring both the cup holder and the mug (see the photo).
The upper half of the mug can vary depending on your preference of lid type.
You can either create a narrow neck with a flared-out rim or you can leave fairly straight walls with just a little taper.
I like this mug without a handle, but you could add one. Just be sure to mount the handle high enough up the mug so it will fit into a cup holder.
The Mouth of the Mug
The benefit of narrower rim and narrow neck is that it spills less easily. It also requires just a small cork or a round wooden stopper. The drawback is that you have to tip it higher to get the coffee to flow out.
The benefit of a wider rim with a wider neck is that the coffee flows out more easily with less tipping. Unfortunately, this also means coffee splashes out more easily. You will also need a wider lid.
The Lid
Generally, for a ceramic coffee travel mug with a wider mouth you would need a cork stopper. On smaller mouthed mugs you can use a small cork stopper or a small wooden stopper.
These can be attached with a leash made of your choice of material like leather or string. First, drill a hole in the center of the lid. Next, thread the leash through. Finally, tie a knot in the leash big enough that it won't slip through.
A ceramic coffee travel mug with a silicon lid is also a great way to go.
This completes your ceramic travel coffee mug. Play with textures on your mug to create a more comfortable grip for carrying.
---
By the way, I do enjoy drinking other beverages in my ceramic coffee travel mugs. In fact, here are my favorites:
For health... the sweet hydrating elixir of water.
For long drives when I'd rather be asleep... Rock Star.
For short trips on foot, into my back yard... a nice dark beer.
Whatever you enjoy drinking, I hope you enjoy making and using your travel mugs. Happy Potting.
Return From Ceramic Coffee Travel Mug
To Advanced Projects

Go to Pottery Coffee Mugs Main Page

Return From Ceramic Coffee Travel Mug
To Home