Intermediate
Clay Pot Projects
Now that you have mastered some basic clay pot projects it's time to stretch your skills with mixing bowls, large coffee mugs with pulled handles, and bird houses.
---
If you can make a cereal bowl you are well on your way to making a larger pasta bowl.
Once you master the larger bowl, you're on to creating a whole set of ceramic mixing bowls.

From there, it's just a matter of gradually increasing the size of each bowl you throw.
The sky is the limit.

The same principles apply to mugs. Once you can make a small mug, you just use more clay to make a large mug. You can also add hand-pulled handles to large coffee mugs.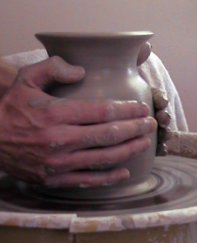 Wine glasses are a simple clay pot project to form, but require some patience to finish because they are made in two parts. Once you connect the two very simple pieces you definitely have a complex looking pot that is greater than the sum of it's parts.
Another great project formed from two parts is a butter dish or jewelry box. The design is the same for both. It's pretty simple to make, but the finished product is really stylish.
Making ceramic flower pots is fun. Besides, few things are more satisfying than planting your own flowers in a pot that you made by hand.
It's really exciting to push the limits of the clay to new levels.
It tests your abilities and gives you a broader sense of what is possible.
Finally, for another of the clay pot patterns suitable for the outdoors, try wheel-thrown ceramic bird houses.

They're fun, practical, and totally unique.
Have fun with these more challenging projects and when you're ready, try out some of the advanced projects.
Thanks for reading, and Happy Potting.


Return From Intermediate Clay Pot Projects
To Home
Other Pages You Might Like