Beginning Clay Pot Crafts to Make
Pottery on the wheel can be both fun and fulfilling. If you're looking for a few simple clay pot crafts to make you've come to the right place.

First, if you're just getting started, you'll need some pottery supplies and tools. Visit the Pottery Supply Store for recommendations on pottery tools, clay, wheels, and other supplies.

Below are some great clay pot recipes including bowls, vases, mugs and more for anyone just getting started on the wheel.
If you're new to pottery it's best to start off with this Lesson on How to Make Your Own Pottery. This will teach you the basics of making pottery.
Then come back to Beginning Clay Pot Crafts to Make and you can try out some of the specific projects detailed below.
---
Have a great story about your first pot? Was it a raging success, or a horrible disaster? Click here to share your story and a picture too, if you have one.
---
Bowls and Vases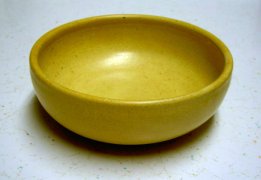 The easiest projects to make when learning how to make ceramics are bowls.

Bowls are the easiest thing to make because the spinning of the wheel naturally wants to pull the clay out and open into a bowl shape.
The coolest thing about bowls it that for all their simplicity, they are so useful.
We use hand made pottery bowls every single day in my house for soup, cereal, rice, pasta, fruit, you name it.
Click on the picture above to learn how to make one. I recommend starting out with a small bowl. Once you feel confident with that, move up to bigger bowls.

Vase are the next clay pot projects to make. From there, the sky is the limit.
Also, check out this book 500 Bowls: Contemporary Explorations of a Timeless Design
for beautiful bowl ideas.


Coasters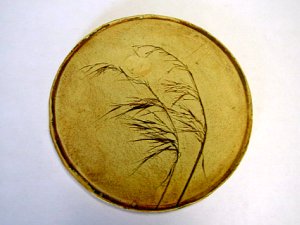 Pottery is one of the best things to give as gifts. I love to make Christmas pottery gifts for my friends and family.
This can be mugs or bowls or even simple, cheap pottery projects.

You can make coasters like the one on the left with very few tools or experience. They cost almost nothing to make, but are really cool as gifts.
Everything you need can usually be found in your kitchen.
Make them, and wrap them in sets of four. They make a unique gift that anyone would love.


Stamps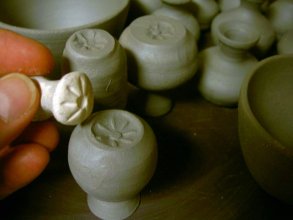 More great clay pot crafts to make are pottery stamps. Stamps are easy and fun to make.
You can make all kinds of designs and then press them into the pots that you throw on the wheel.

On your first few projects remember, just have fun with it.
Take your time. Don't be afraid to make mistakes. Sometimes it helps to watch another beginner so you don't feel like you're the only one learning.
I recommend watching beginning pottery videos online anytime you need some encouragement. You may get some laughs or discover a specific technique that you've been missing.
Also, check out my free videos. They teach you step by step How to Make Your Own Pottery.
Mugs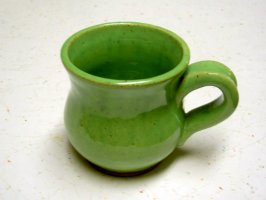 Once you're ready to try something more challenging, learn how to make clay coffee mugs. While it may look hard, a mug is just a skinny bowl with a handle.
Here is another beautiful book 500 Cups: Ceramic Explorations of Utility & Grace
full of inspiring cup and mug designs.
Remember, in pottery you don't have to be perfect. You don't have to know how to do every project.
Choose the projects that you enjoy and practice them over and over until you love the results. Then, when you're ready to try a new one, go for it!
Have A Great Story About Your First Pot?
Was it a shining success or a huge disaster? Share your experience with us!
First Pots By Other Artists
Click below to see contributions from other visitors to this page...

Pasture Pots

Way, way back when the earth was young and so was I, I discovered the joys of clay in my family's pasture. The cattle and horse had skidded down and opened …
Dianne Not rated yet
When I saw my first piece come out of the kiln, I turned to the instructor and asked how he could even waste the kiln space to fire it. What a disaster, …
a ''handi'' Not rated yet
I made a beautiful pot using a toy pottery wheel. it spun and a plastic knife was used to make beautiful designs and was a rather advanced work to make …
---
Thanks for stopping by and learning about some beginning clay pot crafts to make. Happy Potting.
Related Pages
Visit the Pottery Supply Store for Beginning Pottery Books and Tools

Go from Clay Pot Crafts to Make for Beginners to Home

Ceramic Images of Making Clay Pottery on a Potter's Wheel

Photo Gallery of Awesome Handmade Coffee Mugs