Homemade Clay for Kids
Fun, Free Recipes You Can Make at Home
Easy recipes and projects for homemade clay that you can make at home with ingredients in your kitchen. No-bake and oven bake recipes for kids clay crafts.
---
Kids Clay Recipes
Simple Oven Bake Clay Recipe

Fun No Bake Clay Recipes


---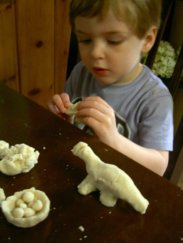 Although this is a pottery website where we normally use pottery clay, I thought I should share some recipes and tips for the clay I make at home for my two-year old.
It seems that whenever he is in the studio all he wants to do is eat the clay. And who can blame him. It has such a nice tooth to it.
Even though the pottery clay I use in the studio is non toxic, I prefer to be overly safe and healthy for my little one.
Using these easy recipes for clay, we can both play in the studio and be creative together without anyone getting grog in their teeth.
(You probably knew this, but Grog is basically sand that is added to pottery clay to give it strength, great for pots, gross for teeth.)


---

Here is an easy clay recipe made from simple ingredients found in your kitchen.
All you need is flour, salt and water. You can bake it in your oven or even air dry it.
Thanks for visiting, and Happy Potting.
Other Pottery Pages of Interest
Ceramic Kilns

How to Make Pottery for Boyscouts

Ceramic Image Gallery

How to Make Clay for Pottery


---
Return to Pottery on the Wheel Home from Homemade Clay for Kids