I need a pottery studio.  How do I set one up?
It's the burning question for many aspiring potters. This is your guide to setting up your own space on any budget in any location.
There are lots of options to choose from when considering where to make your own pottery. Many potters use facilities at schools or stores where ceramic supplies are sold.
These are a great way to get started, but eventually, you're going to want a pottery space to call your own.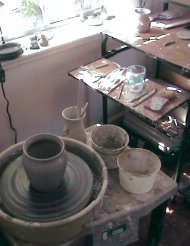 Over the course of my career I've used many different spaces to create pottery... anywhere from friends' garages to empty corners of a bedroom (this requires a VERY supportive spouse).
Therefore, I know a lot of great tricks for creating a studio in a tight space on a tight budget.
Check out this article loaded with tips for creative use of difficult spaces for pottery studios.

Let's see what a "Perfect Pottery Studio" would look like, and then I'll share some tips on how to customize YOUR studio to fit your space, budget, and pottery needs.

The Perfect Studio
The perfect studio would consist of a large room with a well organized work space. It would contain a convenient water source for the studio potter including a good utility sink. If you have a room without water, that's okay. Click the link above for tips on how to use water without having a sink.
Of course no perfect pottery studio would be complete without the perfect pottery wheel to suit your needs. You can build, buy or borrow a pottery kick wheel or an electric pottery wheel.

It would also contain a wide variety of useful pottery tools.

The organization of the tools will make a big difference in the efficiency of your work. A well-placed
wedging table along with one or two other sturdy tables will provide convenient work spaces. This allows you to use a wider variety of techniques in your work.
Several pieces of equipment such as a slab roller and a pug mill can increase productivity while decreasing your own physical efforts. These are great to have, but are not necessary unless your are creating very large quantities of work.
I like to have several sturdy shelves and plastic bins for storage of ceramic pottery supplies and projects in different stages of completion.

Storage is also important for organizing other pottery supplies such as pottery clay, glazes for painting clay pots, pyrometric cones, and other tools.
Finally, you'll need a space for ceramic kilns or at least a small electric kiln. This can be the corner of a basement, a patio or an outdoor shop.
Note: Always follow the manufacturers safety recommendations for setting up your kiln.
For more studio set-up ideas try this book Setting Up Your Ceramic Studio: Ideas & Plans from Working Artists (A Lark Ceramics Book)
Return From Build a Pottery Studio
to Home