Cress Kilns - Review kilns for sale


Buy or review ceramic kilns. Find reviews for Cress Kilns, kilns for sale, instructions on how to fire kilns, and more. I love my Cress automatic control kiln. It fires great every time.
The Firemate control system has a Dawson kiln sitter and limit timer. It is an older technology. However, it is still more advanced than a completely manual kiln sitter.
It allows you to heat the kiln more evenly and at your preferred rate of increase. The limit timer is also a plus in case you forget or need to be away from the kiln at the time that you want it to shut off.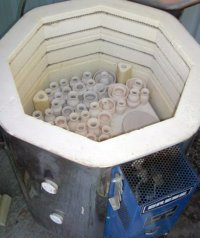 Many newer kilns are being made with digital/electronic controls. Cress currently manufactures both kinds of kilns.
The kiln sitter variety is cheaper due to the decreased technology, but the digital version offers lots of control in firing.
Cress Kilns come in different shapes, mostly square and octagonal. The octagonal shape allows you to fit more ware into the kiln. It is also more heat efficient and usually provides more even distribution of heat throughout the kiln.
They are also usually more expensive as they are a more difficult kiln to build.
Another thing to be aware of when buying a kiln is to what temperature you will be firing your pottery. First you want to make sure that your kiln will reach that temperature.
Also, it's best to try and fire your kiln to the same temperature over and over rather than a wide range of temperature. This just helps to extend the life of the kiln elements. It isn't essential, but it helps.
Cress has been in business since 1973. They are located in Carson City, Nevada.




Return from Cress Kilns to Ceramic Kiln Manufacturers

Return to Pottery on the Wheel Home