Paragon Kiln Manufacturer


Best site to find and review ceramic kilns for sale from the best manufactures.
Paragon Kiln manufacturer reviews, as well as Skutt, Duncan, Cress, L and L, and Olympic Kilns.
Paragon is one of those kiln manufacturers who has been in business a long time.
The first Paragon kiln was built in a garage in 1948. I love the story about how they got started building kilns.
The husband was an engineer and he built a kiln for his wife, Frances Darby, because she couldn't find a kiln on the market that suited her needs.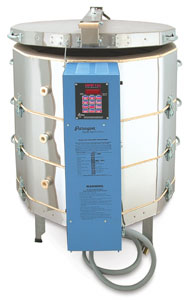 In those days there were not a lot of kiln suppliers and the selection was limited.
Paragon has a long history of education and love of the pottery community.
They manufacture kilns, elements and repair parts for sale through the US, Europe, Mexico, Australia and other parts of the world.
Their factory is centrally located in Mesquite, Texas.
This is an example of the Paragon Touch-N-Fire Kilns
, available from Blick Art Materials.
Their selection ranges from a large number of smaller glass and hobby kilns such as the SC2 or the Firefly test kiln to large front loading kilns such as the Dragon series.
The Firefly is a pottery kiln that can be plugged into a 120 Volt outlet (the kind you plug your everyday appliances into). This makes it easy to use in a wide range of locations, and it is small enough to travel easily.
This would also be the type of kiln to use for testing new glaze recipes or small experimental projects.
They also custom build kilns if you have a specific style in mind that you haven't been able to find out there on the market.
As always, thanks for reading and Happy Potting.


Return from Paragon Kiln to Ceramic Kiln Manufacturers

Return to Pottery on the Wheel Home