Skutt Electric Kilns


Best site to review or buy Skutt Electric Kilns. Find the best clay kilns for sale.
Also find clay kiln manufacturer information for other major brands of kilns such as Duncan Kilns, Cress Kilns, L and L Kilns, Olympic Kilns, and Paragon Kilns.
On this page I'll focus on some history of Skutt Kilns and the different types of kilns they offer.
In 1953 Ralph and Neil Skutt made the first multi-sided hobby kiln. Today Skutt Kilns is based out of Portland, Oregon.
They are still making multi-sided glass and clay kilns, but the design and firing mechanisms have come a long way.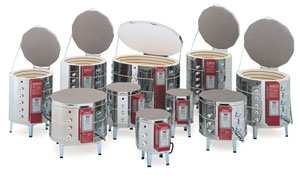 Skutt offers eight, ten and twelve-sided kiln designs.
The more sides a kiln has, the closer it is to being perfectly round.
The more round it is, the more efficiently it can hold and circulate heat within the kiln.
The electric kiln image above is of the Skutt KM Series Kilnmaster Automatic Kilns
. These are available from Blick Art Materials.
They have kiln sizes to fit just about any pottery situation from hobby ceramics to studio pottery, school, or production pottery.
To my knowledge they offer only top load kilns. If they do offer a front load version, I have never seen it and did not find one in the catalog.
They have a series of digitally programmable kilns as well as manual kilns featuring the Dawson Kiln Sitter. They have recently even brought back the original Dawson Kiln Sitter.
In addition, Skutt is releasing a new design of stack-able kilns called the Transformer. Up to three kilns can be stacked to create one ultra tall kiln that can fire a pot up to 77" high.
How cool is that? A couple of years ago I threw a 45" tall pot in a demonstration, but of the 5 kilns I had access to, none of them were tall enough to fire that pot.
Skutt Electric Kilns are among the best in the industry, with a long history of quality kiln making.



Thanks for reading about electric clay kilns and Happy Potting.


Return from Skutt Electric Kilns to Ceramic Kiln Manufacturers

Return to Pottery on the Wheel Home