Artistic Coffee Mugs
Unique, Custom Designs by Page Pottery
Beautiful, handmade, artistic coffee mugs by Page Pottery. Here are some images of these unique, custom coffee cups, mugs, and tumblers.
What I enjoy about them is their simple, artistic design and their satiny glaze.
I like to write about Page Pottery because they are true pottery artists.
Each of their pieces are handcrafted and finished with quality and the experience of the end user in mind.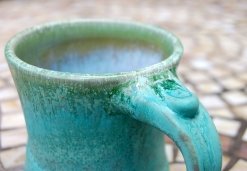 Here's What J.R. and Kristen Say About This Gorgeous 12oz Turquoise Mug
This turquoise glazed mug has an amazing satin feel to it as well as having a good design.
Carefully crafted to fit your hand, this 3.5" mug comfortably holds 12oz of tea or coffee.
Each one is as unique as you are, so slight variations in color and size will occur.
Our goal as potters is to make functional work that people can have a personal relationship with.
When you're drinking from a tea cup that feels good in your hand, you will get an understanding of the relationship that you would not be getting from one churned out of a factory.
---
Imagine a coffee mug set like this hanging from a coffee mug tree on your kitchen counter.
Each of these mugs are thrown by hand on the pottery wheel.
The handles are also handcrafted by J.R. and Kristen and custom fit to each mug so they fit your hand comfortably.
A thumb rest is even added for extra comfort.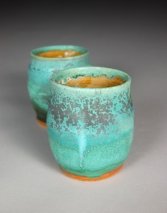 Here's What They Say About These Awesome Little Turquoise Cups
Not just for juice or whiskey, you will find that having these little guys around is very useful.
Hand thrown and carefully crafted to fit your hand, this 8oz drinking cup will make your next drink a better experience.
From the wheel to the fire, much love and care went into producing this cup.

---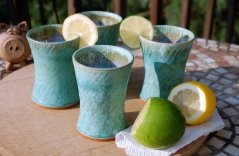 A Final Word From J.R. About Their Beautiful Turquoise Glaze
Our turquoise mug is one of our best sellers. Our turquoise glaze, like all our glazes is mixed in house, and fired to cone 7-8 in oxidation.
Our turquoise glaze is based on a old rookwood pottey glaze, which was very popular in the 1920s.
This glazed once contained barium, as most potters know this is some bad stuff. It was reworked with strontium as a substitute with great success.
Making our pottery not only food safe, but safe for us to make is a top priority.
---
See more of their great photos and an artist's biography for Page Pottery.

I hope you enjoy their work as much as I do.
Thanks for visiting and reading about artistic coffee mugs by Page Pottery, and Happy Potting.
Related Mug Pages
Large Coffee Mugs
Coffee Mug Trees
Ceramic Images Gallery
Check out all kinds of handmade mugs on the Pottery Coffee Mugs page




Return to Pottery Coffee Mugs from Artistic Coffee Mugs

Return to Pottery on the Wheel Homepage