Beautiful Oversized Coffee Mug
By Page Pottery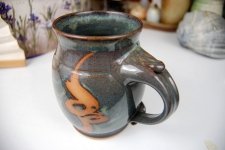 I ran across this absolutely beautiful oversized coffee mug for sale by Page Pottery and I just had to pass on the word.
On their site it is officially called the "Huge 28 oz Slate Blue Monster Mug with a wax design."
You can see why from the photos.
At Page Pottery they custom make each one of these large mugs.



I hope you enjoy these mugs as much as I do. Here are some interesting insights from the artist about how they are created.
Unique Handle Making Process
- by J.R. Page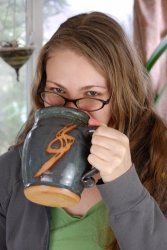 We make our handles a bit differently than most potters.
First we roll out a thick coil, smoosh it so it's flat then cut it into many 3-4" pieces. Then we cut some clay off each piece into a dart. We then make this dart more blunt on one end by tapping it on the table.
After scoring both the clay dart and the spot where the handle will attach to the pot, the handle is ready to be pulled.
Once the handle is pulled we like to put a thumb rest on each one for added comfort. This is done by rolling a small ball of clay then running your finger down half the ball like you are trying to squash it.
This technique, like most when working with clay may take some time to get right.
J.R.'s Studio Secrets
Our studio's 2 best friends of the modern era, a blow torch and plastic. Seriously, our process would be completely different with out these two modern potting conveniences.
For larger mugs we take a blow torch to the handles for a few moments to prevent cracking.
The darts that we create for the handles can be stored for weeks when properly kept in plastic.


---

Learn More About The Page Pottery Artists and find links to more of their pottery including beautiful platters, vases, and dinnerware.

Thanks for reading about Page Pottery's oversized coffee mug, and Happy Potting.
Related Mug Pages
Large Coffee Mugs
Coffee Mug Trees
Ceramic Images Gallery
Return From Oversized Coffee Mug to Pottery Coffee Mugs Main Page

Return to Pottery on the Wheel Home