Stoneware Coffee Mug
Unique Handmade Pottery Mugs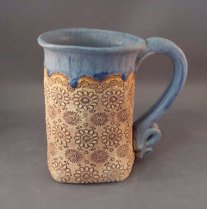 Beautiful, unique, fun, handmade, stoneware coffee mug. Large coffee cups hold 12 oz or 16 oz of coffee. Available in a set.
Artistic ceramic mugs are imprinted with real lace and glazed a beautiful blue.
These are very unique handbuilt mugs.
Although they are not thrown on the pottery wheel, I thought they were important to feature based on the simplicity of the technique used and the excellent textures this technique creates.


This functional stoneware mug is made using a hand-building technique that uses rolled slabs of clay.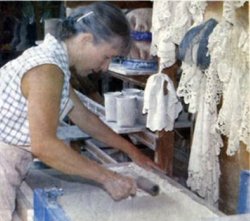 Jayn, the pottery artist, cuts out each slab and individually imprints it with lace to create a textural design.
Handmade antique laces as well as modern manufactured laces are used for their particular patterns.
The lace can be used repeatedly and is not harmed by the process.
This unique line of practical pottery includes mugs, pitchers, tea sets, butter dishes, sitting and hanging planters, desk and utensil organizers, and a variety of vases.
See more of this pottery artist as well information about Mug Heaven where her work is available for sale.
Related Mug Pages
Large Coffee Mugs
Coffee Mug Trees
Ceramic Images Gallery
Return from Stoneware Coffee Mug to
Pottery Coffee Mugs

Return to Pottery On the Wheel Home