Clay Pot Patterns - Bowls
Looking for some new clay pot patterns for your bowls? Here are a few ideas to get your creative juices flowing.
Pottery bowls are usually the first things we create when learning how to make ceramics.
We tend to think of them as easy. However, they can also offer some of the greatest challenges depending on their size and design.
The most important element is the shape, followed closely by the weight and the surface design.
For 500 inspiring bowl examples check out this beautiful photo book "500 Bowls".


Here are some examples of different pottery bowl designs:



Bowls can be created to fit a wide variety of uses. This provides a wide range of styles to choose from to accommodate those uses.
Tea Bowls
The first two shapes would typically be used as tea bowls.
They are smaller in size and have a delicate foot. They are designed to be held in the hand.
A similar design with a wider base would be appropriate for condiments or salsa.
Pasta Bowls
The larger of the bowls would be used for pasta, salad, or as ceramic mixing bowls.
They can have a large lip or no lip.
The walls can be at a wide angle or nearly straight up and down. They can even curve back in, as in the bottom, middle bowl.
Rice and Cereal Bowls
The patterns on the right side of the diagram are rice and cereal bowls.
Rice bowls tend to have taller, straighter walls, while cereal bowls tend to be more open, rounded, and wide.
---
The shape of the bowl determines whether it will be viewed primarily from the inside or from the outside. Take note of this as it will help you determine where to place decorative features.
The bowl below is a good example of this.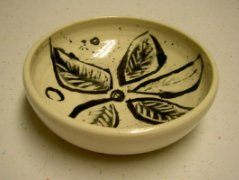 Notice that, because of how open it is, the decoration on the inside is very easy to see.
On the other hand, a tall, narrow rice bowl is going to be viewed mostly from the outside.
For 500 photos of inspiring bowl design remember to check out 500 Bowls: Contemporary Explorations of a Timeless Design
---
Thanks for reading, and Happy Potting.


Return From Clay Pot Patterns - Bowls
To Pottery Designs

Return From Clay Pot Patterns - Bowls
To Pottery on the Wheel Home