Coffee Mugs with Lids
Microwavable Ceramic Mugs Keep Coffee Insulated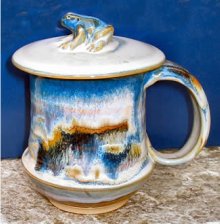 Best ceramic coffee mugs with lids.
These large, custom, microwavable lidded mugs keep your coffee insulated longer.
They come in 16 oz and 12 oz sizes.
Perfect for home or travel. These beautiful lidded mugs are all handmade.
The mugs and lids are hand thrown on the pottery wheel.
The handles are formed with care to comfortably fit your hand.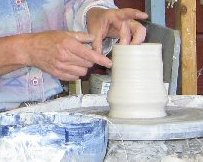 The bottom of the pot is trimmed with a foot to help insulate the mug.
The glazes are lead free and carefully formulated by Mayra, the potter.
Mayra's frog lid mugs and many others are available for sale at Mug Heaven.
Mayra's Comments on Her Work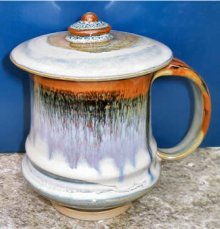 "The Ocean moon mug is glazed with free form brushwork of oxides producing remarkable effects, in the combination of subtle colors brought out by the high firing and reduction atmosphere in the kiln.
Each mug is a work of art, held on one's hands for everyday use.
The glaze reminds me of that which is beautiful in nature."
See more of Mayra's work and learn about Mug Heaven where many of her pieces are for sale.
Thanks for reading about lidded mugs, and Happy Potting.
Related Mug Pages
Large Coffee Mugs
Coffee Mug Trees
Ceramic Images Gallery
Check out all kinds of handmade mugs on the Pottery Coffee Mugs page




---
Return from Coffee Mugs with Lids to Pottery on the Wheel Home

Return to Pottery Coffee Mugs page