Custom Ceramic Coffee Mugs
by Page Pottery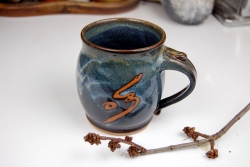 The glaze on these slate blue custom ceramic coffee mugs is amazing. The Page Pottery artists are the creators and suppliers of hand made honey pots with lids, custom clay coffee cups, dinnerware, unique art pieces, and more.
They are husband and wife potters J.R. and Kristen Page. Their studio is located in Western North Carolina, USA.
Visit the Page Pottery artist's page to see more photos of their pottery and their fiery studio, as well as links to their beautiful website.



Here is J.R. sharing a bit about how the mugs are made.
---
The Mug Making Process
by J.R. Page
"Each mug before it is thrown is wedged and weighed to 1lb for our regular mug. I then throw each one and measure it to 5" for consistency.
To finish each piece I use a small piece of plastic to finish and smooth the rim of the mug where your lips will touch it. The handle is then pulled 6-8 hours later.
The same goes for the 28oz monster mug, our oversized coffee mug, but we use 1.5lb of clay and it measures 6".
Pottery for us is a way of life. A lifestyle we cherish greatly. We strive to make each final piece the best it can be. Taking great care and consideration to each material, process, tool and technique that we use.
We give our all into our craft and in doing so some part of us goes into the work as well."
---

Thanks for reading about these custom pottery mugs by Page Pottery. Remember to visit their pottery artists page and Happy Potting.
Related Mug Pages
Large Coffee Mugs
Coffee Mug Trees
Ceramic Images Gallery
Check out all kinds of handmade mugs on the Pottery Coffee Mugs page




Return From Custom Ceramic Coffee Mugs by Page Pottery to Pottery Coffee Mugs

Go Back to Pottery on the Wheel Home