Creative Ideas for Fun and Unique Ceramic Mugs
Find fun and unique ceramic mugs, personalized mugs, cups, coffee travel mugs, recipes for small, large and over-sized mugs.




What makes a ceramic coffee travel mug unique? Just the fact that it's hand-made on a pottery wheel makes it unique, but there's more. It has to have something that catches your eye, a special design, color or texture.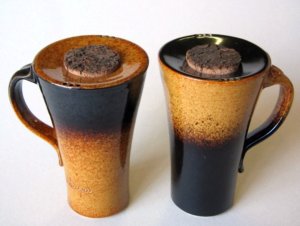 Here is an example of a fantastic ceramic coffee travel mug from the Of Cabbages and Kings pottery studio.
This is one of the most beautifully designed artistic coffee mugs I have seen.
It takes into account function as well as design. Look at the simple elegance in the form of the body and handle.
Notice the unique hole design for the liquid and air exchange in the lid.
Plus, the corks that John & Katie use are beautiful and rustic.

Here is a list of ideas for unique pottery mugs to inspire experimentation. Any of these would make great cheap pottery Christmas, holiday, or birthday gifts, and they're fun pottery projects to make. Try a few of these unique mug recipe's:
Throw a mug and carve or sculpt a face on it.
Throw a thick-walled mug and then thin the walls by carving stripes, flowers, textures or names into it after it's leather hard.
Throw a thick-walled mug. Carve a pattern of stripes or squiggles into the walls. Then, stretch the walls (and the carved pattern) outward on the wheel while the pot is still wet. This creates very interesting and unique pottery designs.
Make a ceramic travel coffee mug. Form a very wide bottom and a very narrow neck to prevent splashes and spills.
Create extremely large coffee mugs that holds an entire pot of coffee.
Put two handles on them.
Make your handles look like tree branchs, a snake, a rope, or whatever you can imagine.
Make a thumb rest by pressing a small ball of clay onto the top of the handle.
Sculpt a little creature in clay, like a frog, a cat or a turtle and attach it to the rim of the pot.
Make a lid for your mug. Cover the mug with the lid while steeping tea.
Create a personalized coffee travel mug. Roll a flat sheet of clay. Cut a name into the clay. Remove the letters and attach them to the mug with some slip.
Add feet to your mug.
Make your mug tall and thin for lattes, big and wide for cappuccinos, and tiny for espresso.

More Mug Pictures and Ideas

Ceramic Coffee Travel Mugs for the Car

Wide Bottom Ceramic Travel Coffee Mugs

Large Coffee Mugs

Learn to Make Clay Coffee Mugs for Beginners



---

Thanks for visiting and reading. Remember to stop by the Pottery Store for ceramics supplies, clay, electric pottery wheels, books, tools and other pottery supplies.

Have fun making your own unique ceramic mugs and Happy Potting.

Go Back to Pottery Coffee Mugs Page

Go From Unique Ceramic Mugs Back to Pottery on the Wheel Home